SINCE 1237, THE SYMBOLIC FLORIN (THE ANTIQUE COIN FROM THE REPUBLIC OF FLORENCE) HAS BEEN DESIGNED AS A 24KT GOLD COIN SHAPED WITH ITS UNIQUE FLEUR-DE-LIS (BADGE OF FLORENCE) ON ONE SIDE AND THE FACING FIGURE OF ST. JOHN THE BAPTIST (PATRON OF FLORENCE) STANDING ON THE OTHER SIDE. WE EMBRACED IT WITH MODERN DESIGNS AND CREATED BEAUTIFUL TIMELESS ITALIAN JEWELS THAT WILL ALWAYS BE PART OF YOUR COLLECTION. WHICH ONE DO YOU LOVE: THE GOLDEN OR THE SILVER ONE??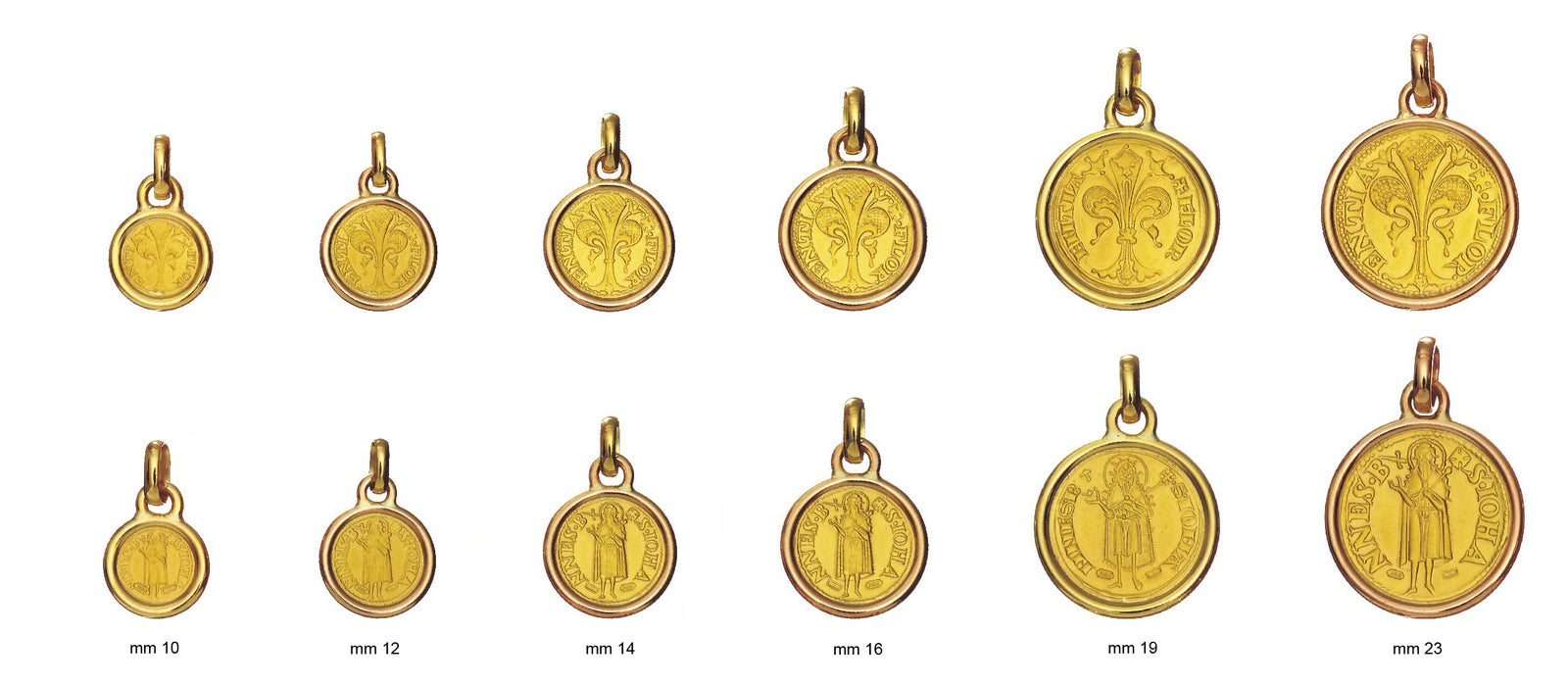 MORE THAN 100 YEARS OF HISTORY
THE ICAF COMPANY WAS BORN FROM THE ASHES OF THE ANCIENT "RICCI" COMPANY EXISTING SINCE THE BEGINNING OF THE 20TH CENTURY AND SPECIALIZING IN ENGRAVINGS ON PUNCHINGS, MEDALS AND VARIOUS OBJECTS IN GOLD AND SILVER.
FAMOUS ARTISANS IN THE FIELD OF ENGRAVINGS SUCH AS CARLO LAURI, RICCARDO MAZZANTINI AND SERGIO VAGGI WERE TRAINED AT RICCI'S FACTORY.
OWN SERGIO VAGGI, FOUNDER OF THE S.VAGGI JEWELRY, IN 1990 WILL TAKEOVER THE WHOLE "RICCI" COMPANY THUS RAISING IT FROM ANONYMITY. SERGIO WILL CHANGE THE NAME IN ICAF AS "IL CONIO ARTISTICO FIORENTINO", WITH THE INTENTION OF PROVIDING CONTINUITY OF WORK IN THIS SPECIFIC FIELD AND AT THE SAME TIME ENHANCING THE ORIGINS AND THE FLORENTINE MANUFACTURE.
THE HUGE QUANTITY OF MOLDS DEVELOPED DURING OVER 100 YEARS OF LIFE MAKE THIS FAMILY COMPANY UNIQUE IN THE PANORAMA OF MOLDED WORKS WITH PARTICULAR RELIEF FOR RELIGIOUS IMAGES AND FLORINS FAITHFULLY REPRODUCED TO THE ORIGINAL ANTIQUE FLORENTINE COIN IN TERMS OF QUALITY, WEIGHT AND DIMENSIONS IN 18KT, 24KT GOLD AND SILVER.